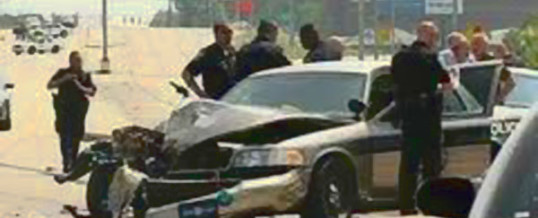 The family of a man killed when an Indianapolis police officer's cruiser plowed into two stopped motorcycles has reached a $1.55 million settlement with the city, attorneys said Thursday.
Eric Wells' father had filed a wrongful death suit against Indianapolis, its police department, and Officer David Bisard after the 30-year-old Indianapolis man was killed in August 2010 when Bisard's cruiser crashed into his motorcycle, which was stopped at an intersection.
The lawsuit claimed "gross negligence" on Bisard's part, alleging that he was driving recklessly at a speed while intoxicated. It also alleged that police investigators improperly failed to give the officer a breath test for alcohol at the scene.
Marvin Coan, an attorney for the Wells family, said the case's resolution brings "a certain element of relief" to Wells' parents and widow.
"I think that's something everyone would understand, although this is not a case where any amount of money is ever going to make up for the tragedy they're going to have to live with for the rest of their lives, due to the loss of Eric," he said.
City attorney Samantha Karn said Marion County's probate court must approve the settlement, and once that's done, the city will make a $1 million payment on July 2 to Wells' estate. The remaining $550,000 will be paid on or before Jan. 15, 2013.
"At this point, we are happy to have the settlement behind us. I think everyone agrees that this was a tragic incident," she said.
Karn said she could not comment further because the city still faces two lawsuits filed by crash survivors Kurt Weekly and Mary Mills. The pair, Wells' co-workers, were seriously injured when Bisard's cruiser struck their motorcycle, which was also stopped at the intersection.
Weekly and Mills' suits claim negligence on the city's part because of Bisard's conduct, Karn said. A blood sample taken more than two hours after the crash showed Bisard had a blood alcohol level of 0.19 - more than twice the legal limit for driving. But a judge ruled that an initial vial of the blood was inadmissable because it was drawn by an unathorized person, forcing prosecutors to drop a drunken driving charge against Bisard.
Prosecutors had hoped a second vial of blood would bolster their case. But that vial was moved and left unrefrigerated for about 22 weeks. Bisard's attorney has asked that it also be thrown out. Bisard still faces reckless homicide and other charges.
A message seeking comment left Thursday for Bisard's attorney, John Kutzman, was not immediately returned.
Coan said the parties agreed on May 18 on a settlement amount and signed the settlement agreement June 1. Coan said money from settlement will go to Wells' parents and widow, who are his beneficiaries. Some of that money will go toward the nonprofit Eric Wells Memorial Foundation to further Wells' passion for assisting underpriviledged children, he said.
Wells' father, Aaron Wells, told the Indianapolis Star the settlement in his son's death doesn't make him feel any better.
"But any time you can put something behind you in this whole matter helps. We don't have to be concerned about future court dates and further decisions. It is out of the way," he said.